Accessories
Our focus is drilling equipment and drill bits, but even so there's always need for accessories and additional equipment to use in the field. Below are some of the accessories that we stock regularly but you are more than welcome to contact us with further inquiries regarding other accessories or related equipment.
– Plugs
– Rubber gaskets
– Work site markers
Blasting mats
We offer a selection of high-quality blasting mats with sufficient protection against blasting debris. The blasting mats come in many different sizes and with different levels of protection and makes it easy to find the right one for you. Blasting mats longer than 4 meters are reenforced with an additional lifting wire and comes with Talurit-lock in both ends and are approved for lifting.
Artikelnummer
Article number
Grinding equipment
The right kind of equipment requires the right kind of accessories and maintenance. We provide grinding machines, grinding wheels and grinding pins so that your equipment has an increased service life and high performance.
Grinding machine DP20 / DP21
DP20 / DP21
Techinal data:
 DP20 / DP21
Pressure: 5-7 bar / 5-7 bar
Air consumption: 15 l/s / 15 l/s
Speed: 21000 / 14000
Weight: 1,3 kg / 3,15 kg
Effect: 700 W / 1,6 kW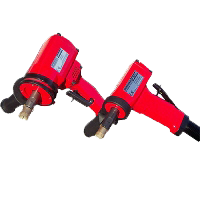 Grinding machine DPS-42 w/ regulator
DPS-42 w/ regulator
Technical data: DPS-42 med regulator
Pressure: 6 bar
Air comsumption: 0,7 – 1,9m3
Speed: 4200
Weight: 6,6 kg
Effect: 2,3 kW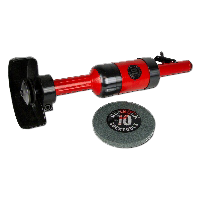 Grinding buttons and grinding wheels
In our stock we have wheels and buttons for Sandvik, Atlas Copco och CME-machines in different types and sizes, with both spherical and ballistic buttons:
– Sandrive, Wingdrive, 55 Drive, CME
– 6–26 mm
Our selection of grinding wheels come in many different dimensions:
– 150x10x32
– 150x13x32
– 150x25x32
– 200x10x32
– 200x13x32
Lubricants from OKQ8
We offer OKQ8s great selection of high-quality lubricants for all your drilling equipment needs.
Get in touch with us and we will help you with the right lubricants.
Industry leading products
We offer the best products in the industry from globally leading manufacturers
Wide selection
Desrock can supply your equipment and accessories for almost any type of drilling
Quick shipping
We understand the importance of having the equipment you need when you need it